Little Foodie Set (Little Camper)
Regular price
Sale price
€75,00
Unit price
per
Sale
Sold out
Introducing little foodie, the perfect all-in-one gift and starter set.
This complete Miniware combo set provides the perfect start for minis new to self-feeding. Made from durable materials, with detachable suction-foot, silicone accessories and unique "easy-scoop" angles, Little Foodie is created to help kids learn essential skills while reducing accidents and spills. The waterproof lid seals securely to our cereal bowl, making it ideal for transporting messy foods or storing leftovers. Perfect both as a gift or for your own messy minis!
This set includes:
1x 1-2-3 sip cup with silicone straw
1x detachable suction foot

Reasons we love it:
Detachable suction foot connects to bowl and plate
Builds feeding skills and transitions as Minis grow
Silicone lid ensures less mess and easy storage
Earth and family safe materials, biodegradable and food grade
The perfect all-in-one gift set

Materials
Bowl, plate, cutlery, cup+lid: plant based biodegradable and petroleum free PLA
Suction foot, bowl lid, teething spoon, straw: 100% food grade silicone
Product Dimension (cm) / Weight / Volume
Cereal Bowl -12.7x 12.7x 5.7 / 125(g) / 350(ml)


Sandwich Plate - 21.1x 21.1x 3.7 / 224(g) /600(ml)

Sippy Cup - 7.75x 8.25x 13.3 / 130(g) / 190(ml)

My First Cutlery - Fork 13x 13 / 23(g) Spoon 13.4x 3.2/ 21(g)

Cereal Bowl Lid - 13x 13 x1.65 / 32(g)

Suction Foot - 14.4x 13 x1.7 / 26(g)
Care Instructions

Cleaning:

Miniware is safe to clean in the dishwasher. Avoid using the heated dry feature if your dishwasher has one to extend the life of your product. We recommend wiping after washing and then drying in the open air. If washing by hand, a regular soft sponge is best as the product surface can become scratched with a rough scrub sponge. Steel wool is not recommended.

Microwave:

Make sure to fill the cup/bowl, etc, at least 3/4 or more, set to medium heat or lower, and heat for no longer than a minute. Usage at higher temperatures and/or longer than a minute may cause permanent damage to your Miniware! We recommend microwaving food in another container before using Miniware to feed young children, this helps ensure food is cooled and avoids burning a child's mouth. Our food-grade silicone products are perfect for use in the microwave. Stainless steel products are not microwave-safe.
Share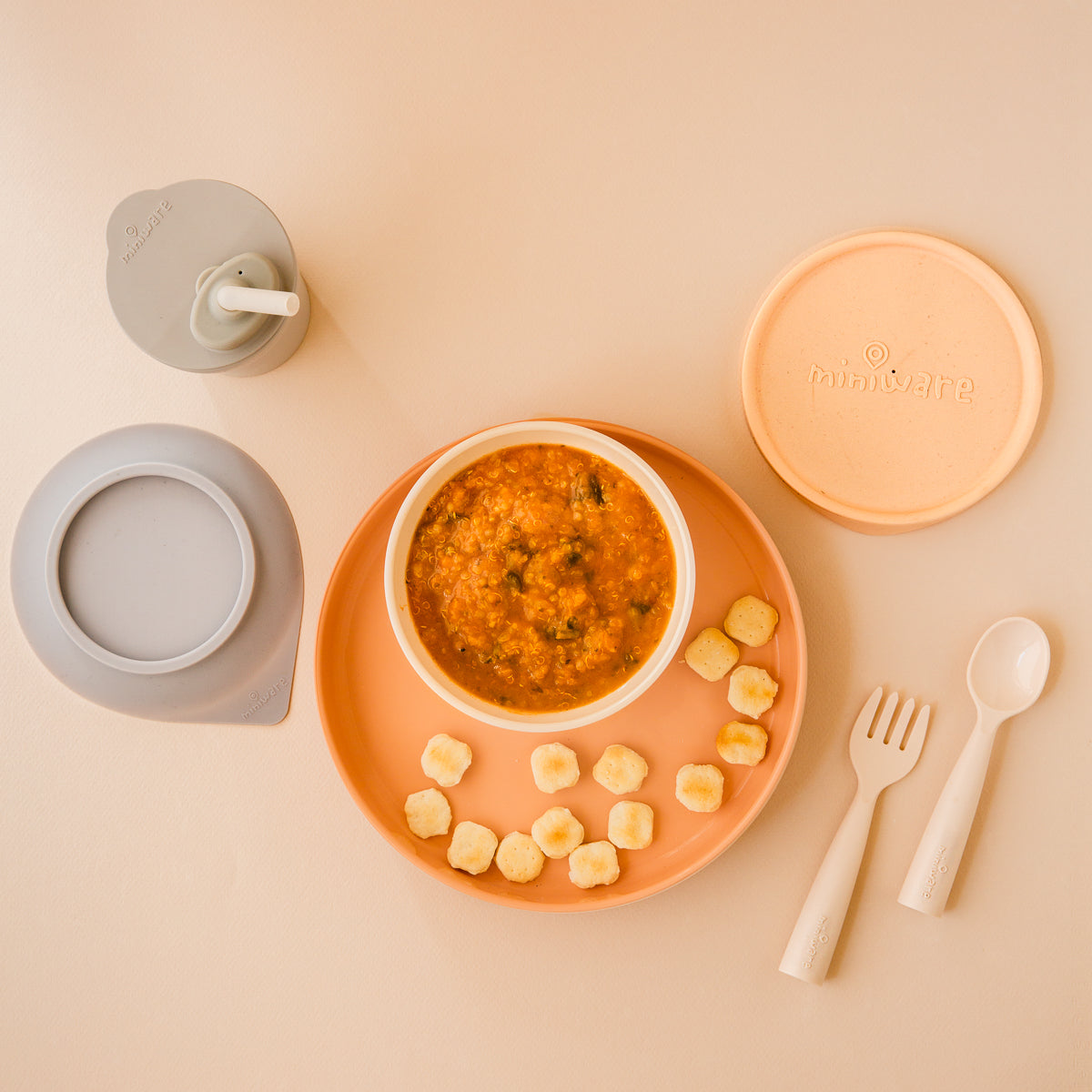 Hassle Free Parenthood
Smart dishware is designed to accompany your child from weaning up to adulthood. Dishwasher safe, biodegradable and non-toxic plant-based materials make Miniware the best eco-friendly baby products in the market.